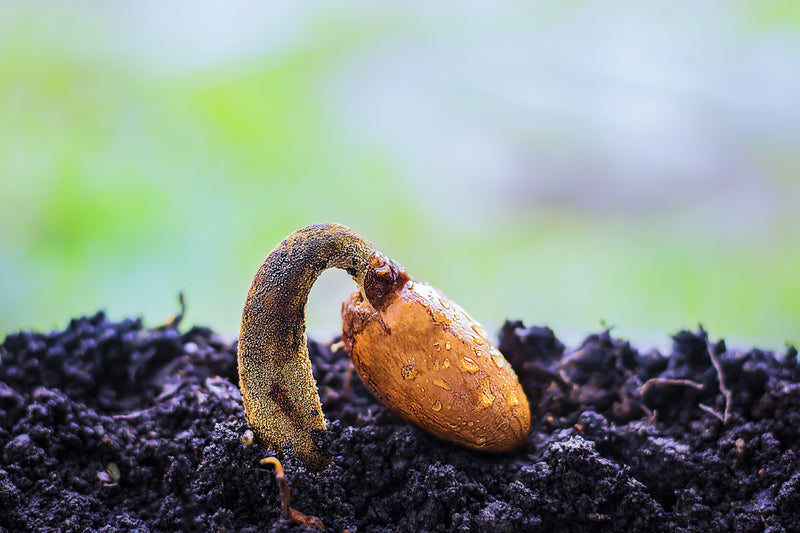 Common knowledge dictates that seeds need the following ingredients to grow well:
Optimal setting – container, soil
Correct temperature – seeds have ideal ranges and a minimum temperature for germination
Circulation and moisture – they need water and oxygen (room to breathe)
Light!!
Fertilizer once the seed germinates
Depending on the type of seed, you may have specific instructions for care as well. Generally, the right balance of light and water is recommended (not overly doing either). However, there certainly is more to it than that. Below we'll outline how Nutri SeedTM can help combat deficiencies and help you grow a stronger seedling and, eventually, plant.
Seed Viability
Seed Viablity defines the capacity for a seed to germinate. This can be affected by a variety of factors:
Time in shelf – check seed viability charts to understand maximum shelf life of seeds you plant, this is a simple Google search away. NC State published an article showing that germination rates decrease with greater time in storage (check your vegetable's chart!). 

Natural viability – plants germinate at varying rates, some are less successful than others. USDA's Germination Standards from the Federal Seed Act can be found here.
Degradation of generations – one mother plant produces seeds. The older the mother plant is, the greater risk it and its seeds are of health issues. Seeds produced from older generations will be less nutrient-rich than earlier generations
True in practice?
In the next few posts, you will read more about the origins of PureGro and experiences farmers have had with our parent brand ExcelAG. Interestingly, yes! Interviewing Agave, Pineapple, Berry, and Coffee farmers - they are keen on monitoring soil (more to come later) and seed. They won't let mother plants go beyond 3 generations due to degradation in quality!
Pictured left: pineapple vegetative seeds from mother. Pictured right: Berry farms
So now what?
In all cases, the best solution is to research and time correctly. However, much like in nature, not all seeds are made the same and any of these factors aid in impacting seed germination.
Our Nutri SeedTM is specifically designed with the right balance of micronutrients to help optimize/accelerate the growth stage of seeds. Given any of the disadvantages listed above, Nutri SeedTM will better equip the seed to handle deficiencies and provide the best nutrition to help grow healthier, vigorous plants and to grow faster crop stands.
Regardless of what you are planting, nutrition is key!! We hope this will help you get the most out of your seeds and ultimately love your growth!
Sincerely,
The Love Your Growth Blog Team